It Should say December 12th!
Our Saturday Matinee Dates at "C'est what?" 2016! (3-6 pm)
January - 2nd 16th & 30th
February - 13th (28th anniversary) & 27th
March - 12th & 26th
April - 9th & 23rd
May - 7th & 21st
June - 4th (seasonal finale)
July 2nd Downtown jazz festival (TBC!!)
September - 17th
October - 1st 15th & 29th
November - 12th & 26th
December -10th
Christmas CD
Hot Five Jazzmakers
"Mele Kalikimaka"
16 seasonal songs played in the jazz style
Go to our Newsletter to hear extra cuts (see below)
e-mail briantowers@msn.com
for a copy
See Our Repertoire, Over 600 Tunes! click here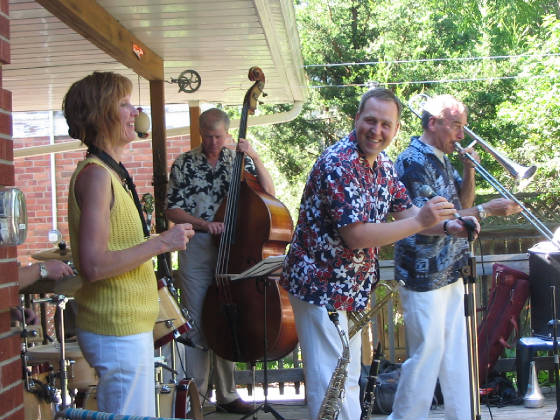 We love doing those summer outdoor events
H5JM In Maribo, Denmark. July 2009 - definitely not Abbey Rd!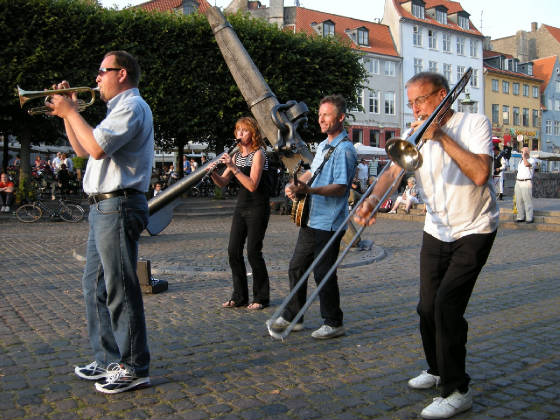 Parading in Copenhagen -July 2009
Tynemouth in the UK Concert July 2009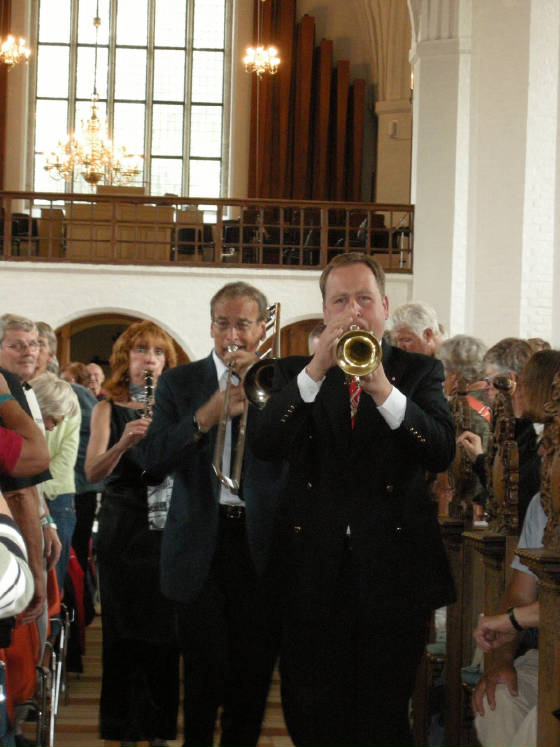 The Cathedral, Maribo, Denmark. We parade.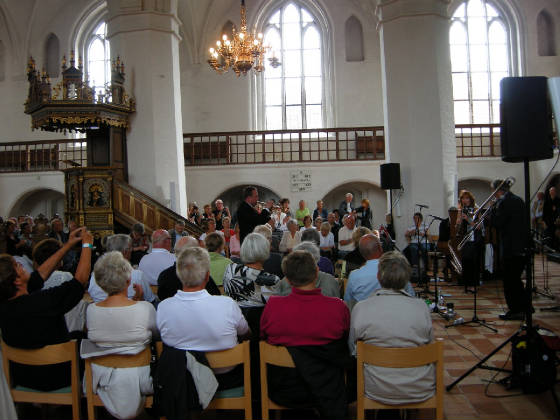 Maribo in Denmark. Our concert in the Cathedral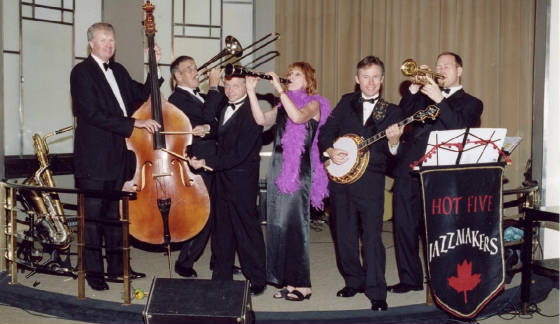 "About the Band"
The Hot Five Jazzmakers are a versatile Canadian jazz group and play a mix of ragtime, blues, spirituals & classic jazz with the flavour of the 1920's/30's – the golden era of jazz. Don't be confused by the word "FIVE" however. Mostly they field six players and often seven when the occasion demands. Their bi-weekly Saturday matinee sessions in the intimate setting of "C'est what?" (67 Front St E, Toronto) have been a feature of the Canadian jazz scene for over 22 years. In the summer of 2009, they enjoyed a successful European tour, appearing in England at the Whitley Bay International Jazz Festival and the Maribo Jazz festival in Denmark. In June 2011 they appear at the Kirkcudbright festival in Scotland and the Silkeborg Riverboat Jazz Festival in Denmark. Previous years have seen many appearances in New Orleans and include two tours of Northern Germany. They have also represented Canada at the Marciac festival in France and the Edinburgh international Jazz Festival in Scotland. Their festival appearances in North America are too numerous to relate here. There have been a couple of Caribbean jazz cruises and many summer jazz lake cruises on the paddleboat "Trillium" starting from Toronto harbour. They have issued fourteen CD's, details of which can be seen elsewhere, with audio extracts to which you can listen.
"About the Players"

Brian Towers–tbn/ldr

Plays tailgate trombone in the style of the New Orleans traditionalists. Writes about jazz and produces a regular newsletter. He also produces the band's CD's. He wrote the Canadian jazz column for the Mississippi Rag, until it ceased publication. He has led the Jazzmakers for many years, as well as their Saturday matinee jazz club at "C'est what?". He was one of the four founder-members of the Classic Jazz Society of Toronto in 1994, now sadly no longer operational. He left England in 1969, emigrating to Canada, to work for Scotiabank in the Caribbean. Now retired fom full-time employment but.... busier than ever!

Janet Shaw–reeds

A vibrant reed player of the traditional jazz genre, Janet alternates between clarinet, alto & baritone saxes, plus occasional piano and handles many of the band vocals with her unique voice. Married to Brian Towers, she has two daughters, both at McGill University. Recently retired after a management career in the pharmaceutical industry, Jan is now self-employed with her own consulting company. Jan has been with the band since it changed its name to the H5JM but her first regular role in a jazz band was as pianist with the Jazzmakers at Jakes Boathouse from 1982. She also occasonally doubled on baritone sax during that time and sang the vocals too. Switched to regular clarinet and alto in 1988, with occasional piano, when the H5JM started a weekly residency in Guelph at Burnaby's bar.

Jamie Macpherson - banjo

He has shown all the band members how to look happy on stage, while still performing at a high level on his instrument, both as a team player and banjo soloist. Jamie was voted "All-Canada Banjo Champ" twice in the 1980's. Jamie also loves to sing but mostly does this in "Barber Shop" style, with a group known as the "Megacity Chorus" his vocal harmonies can often be heard with the band when backing a vocalist. Jamie provides tuition to students of the 5 string & tenor banjos and has been doing so since 1975. He also plays with the Ragweed Jazzband. His daytime job is in administrative management at Sunnybrook Hospital, on the technical side - no he will not take out your appendix! Once, when on a jazz tour in Northern England, he helped restore electrical power to a jazz club that had been flooded during a thunderstorm, thus enabling the show to go on! A useful man in an emergency!

Andrej Saradin-tpt

Brings youthful energy and a carefree approach to the group. Andrej is a new Canadian and came from Slovakia in 2002, where he was the oldest member of a Dixieland band. Now he finds himself the youngest member of a Canadian jazz band! Contributes fully to the band's stage personality. He has recently become adept with "combe & paper" as well as "kazoo" which fits in well when the band digs into the "Chicago South Side" part of its repertoire!

Sometimes the band needs a song to be sung in German or Russian and Andrej can do this quite convincingly. He can also put out vocals in English and retains his charming central European accent, while doing so!
Reide Kaiser-piano
Re-joined the Hot Five Jazzmakers on piano in 2008, after a spell with the late "Jeff Healey's Jazz Wizards"

Reide's association with the H5JM, however, is a long one and he played with the band many times at their "C'est What?" club, before joining on a full-time basis in October 1998.

Reide is a keen collector of classic traditional jazz "78" records and can hold his own in any discussions on the history of classic jazz.

His style embraces Jelly Roll Morton and the early jazz forms, as well as Harlem pianists such as James P Johnson; Willie The Lion Smith and Fats Waller of course.

Reide is a lawyer by day but he cannot get you off a "speeding ticket"

as his speciality is family law!
Gary Scriven-drums & Washboard

The 7th member of the Hot Five Jazzmakers (the leader is clearly mathematically challenged!) The band played for many years without drums but Gary's father Graham Scriven, a gifted English professional drummer, demonstrated to us how drums, played in a certain way, could enhance the style of the H5JM. This is how we met Gary and his doubling on washboard adds yet another dimension to the band's show. Gary first joined the band on a regular basis in 1995 but left when he joined the late "Jeff Healey's Jazz Wizards" in 2002. Since Jeff's untimely death, Gary has been joining us for special occasions and this includes the Silkeborg Jazz Festival in Denmark, where the H5JM takes part in June 2011.

Gary works in the financial district of the City of Toronto as his day job.
Hear these sound clips
"Amazing Grace"
The band plays discreetly with the Harcourt Church Choir.
Watch these video clips